The Next Civil Rights Movement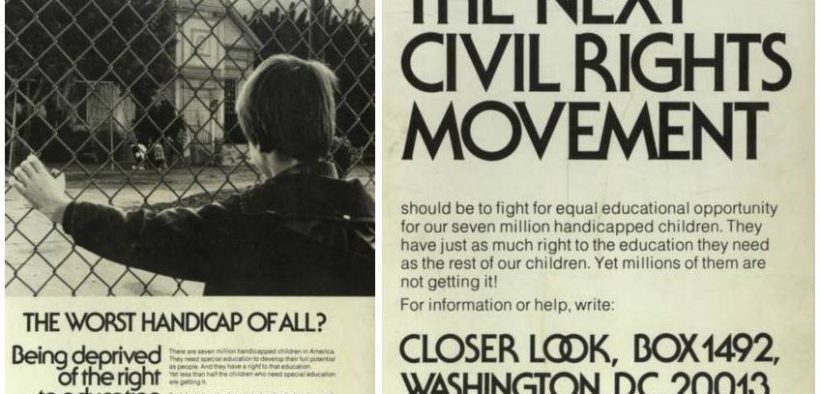 By Laurie Block, DHM Director
The 1960s. Civil Rights of PWD : Tracking down how and why the two posters in our image today were created, required digging out some federal legislative history. In 1965, Congress enacted the Elementary and Secondary Education Act (ESEA) to help address problems of equal opportunity for "underprivileged" children. This law generated funding and other resources to help insure "disadvantaged" students had access to a public education. Included in the provisions was a grant program designed to help states with the "initiation, expansion, and improvement of programs and projects… for the education of handicapped children."
Harvey Liebergott, a colleague of ours, and the person who authorized the posters to be developed, was then working as the Director of the Recruitment and Information Program of the Bureau of Education for the Handicapped in the US Dept. of Health, Education, and Welfare. That's the federal admin geneology.
His task was to get people around the country interested in fostering education programs and projects related to kids with disabilities. His office created and distributed these two posters to promote interest in the grants from parents and allies of children with disabilities late in the 1960s.
Remember, at this point, there was no federal guarantee that children with disabilities had a right to a public education.
The Architectural Barriers Act was first passed in 1968 giving the National Restroom Association a small boon in its business, who knew, but in the records that contain this history, they play a role, just as they do in anything related to legislation and bathrooms today.
In 1970, Congress enacted PL 91-230, the US Education of Handicapped Children Act, initially it was still a grant development program for states. Then came Parc &. Mills: Pennsylvania Association of Retarded Children versus Commonweath of Pennsyvania (PARC)–, and –Mills versus Board of Education of District Columbia–. These legal landmark cases generated a right to due process for parents and a means for resolving disputes. Mills was also about the suspension and exclusion of students with disabilities from public school districts.
These cases prompted Congress to investigate the issue and they then reported that '8 million U.S. children with handicapping conditions required special education and realated services, and that 3.9 million disabled kids were receiving an appropriate education, 1. 75 million children with disabilities received no educational services of any kind, and another 2.5 million disabled children received an inapprorpriate education.
Quoted in Wrightslaw: http://www.wrightslaw.com/law/art/history.spec.ed.law.htm
Eventually, Public Law 94-142—The Education for All Handicapped Children Act, which today we call IDEA was enacted in November 1975. This law built upon all of the above and more: it used model programs from states, it noted the landmark legal cases associated with African Americans, Mexican Americans, and disabled children's right to a public education.
This new law ensured all children with disabilities in the US would have access to both an education and due process, with safeguards and legal checks and balances built into the legal administrative structure. The whole was designed to protect both children and parents' rights.
Two Posters:
Left: A black and white photo. The back of a boy's head and his upper body, the child looks through a fence at a playground. The words in the tagline say: The Worst Handicap of All? Being deprived the right to an education.
Right: An all text poster: The Next Civil Rights Movement, –and text follows –should be to fight for equal educational opportunity for our seven million handicapped children. They have just as much right to the education they need as the rest of our children. Yet millions of them are not getting it!. A note explains how to contact the Closer Look Program in Washington, DC.