A Hidden Figure Wheels In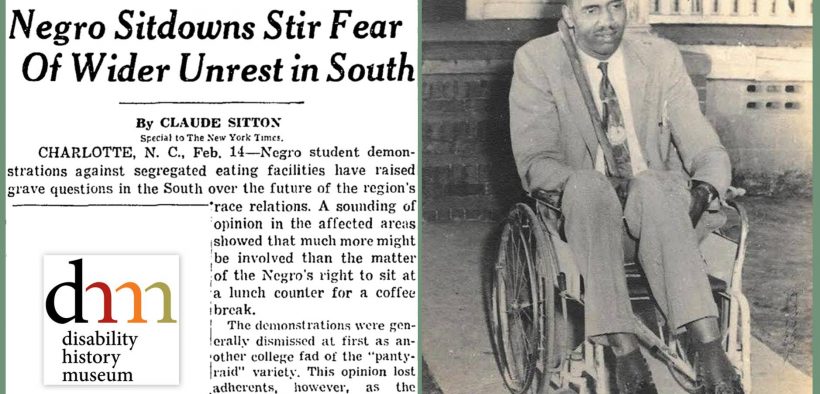 By Janna Zwerner
Hidden Figure Wheels In: Today we honor a little-known civil rights leader, the Reverend Cecil A. Ivory, Sr., NAACP chapter leader in the early 1960s and pastor of the Hermon Presbyterian Church in Rock Hill, South Carolina. Ivory was from Arkadelphia, AR, but in the 1940s he attended Johnson C. Smith University in Charlotte, NC. Later he settled with his family in Rock Hill. Cecil Ivory had survived a significant back injury as a child, but he fell off the back of a pick-up truck in 1956, and subsequently used a wheelchair for mobility.
In February 1960, the first "sit-in" took place in Rock Hill, organized by leaders of the Congress of Racial Equality (CORE). Reverend Ivory joined more than 100 mostly African-American students from Friendship Junior College, who attempted to sit down at the Woolworth's and McCrory's lunch counters. Both stores closed their lunch counters for the next 10 days.
Reverend Ivory called a mass meeting soon afterward to discuss a unified strategy and the sit-ins resumed on March 15: 70 arrests followed and the NAACP posted the needed bail. In mid-June, Rev. Ivory decided to hold the first "wheelchair sit-in" when he rolled up to the McCrory lunch counter with his colleague Arthur Hamm, a student leader at Friendship. Ivory explained to employees that he was violating no custom, since he was not actually sitting in a lunch-counter seat. He was denied service. The story was covered nationally in the black press, including the Pittsburgh Courier, June 18, 1960.
Reverend Ivory was no novice to activism. Not long after Rosa Parks sparked the Montgomery bus boycott in 1955, Ivory coordinated a boycott in Rock Hill. A 24 year old citizen, Adelene Austin, got off the Star Transit Co. bus rather than give up her seat next to a white woman. It was hot in the summer of 1957, but black citizens of Rock Hill joined the boycott, walking until they organized their own ride service. Ivory was quoted as wanting "justice and the elimination of discrimination. We'd rather walk than be insulted." [Jet Magazine, Baltimore Afro-American, New York Amsterdam News. ] The boycott effectively put the bus company out of business.
On Jan 31, 1961, 10 Friendship students were arrested at another sit-in and found guilty of trespassing. Instead of paying the $100 fine, 9 out of 10 students – the Friendship Nine – as they would come to be known, chose the 30-day jail time — the first time sit-in movement protesters served full sentences. (The "Jail, No Bail" protest philosophy would later be adopted by the national civil rights movement.) 300 African Americans crowded into a Rock Hill mass meeting to hear speakers of the Committee for the Promotion of Human Rights, led by Rock Hill NAACP president Rev. Cecil Ivory. On Feb 23 that year, Rev. Ivory and two others were arrested for "breach of peace" in downtown protests.
A long road lay ahead.
(Many thanks for assistance with this article to Keith Jones, SoulTouchin' Experiences president and Krip Hop Nation member, and Leroy Moore, National Black Disabled Coalition founding member and Krip Hop Nation founder.)
Image: On the left, an image of a New York Times page with the masthead and the beginning of an article "Negro Sitdowns Stir Fear Of Wider Unrest in South." The Disability History Museum logo is superimposed. On the right, a photo of Reverend Ivory in a suit and tie sitting in a wheelchair on the sidewalk in front of a porch.