The Joy of Cooking with Fannie Farmer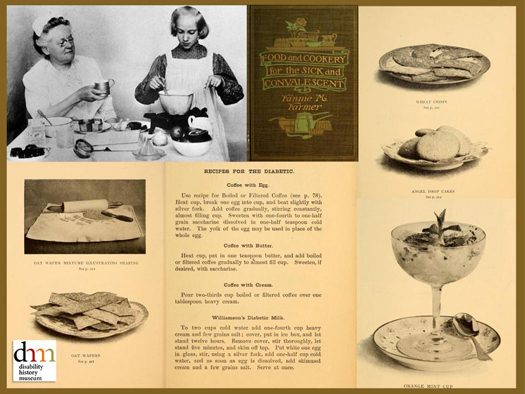 By Laurie Block, DHM Director
At our Xmas season dinner table, the guests and host –ages 30-75– began discussing cook books, the ones we first owned. The quick table survey revealed that the groups' mothers had provided many of us a range of approaches in how-to workout life in the kitchens of our newly adult lives. The titles sometimes included authors: Mrs. Rumbauer –Joy of Cooking, The Silver Palate, The Settlement Cookbook, The Moosewood Cookbook. Julia Child and Fannie Farmer. Sometimes it was an ethnic community or congregation's recipe book. Today we're highlighting Fannie Merritt Farmer's work, as her experience was entwined with disability history.
Farmer was the director of the Boston Cooking School in 1894 and she published her first cookbook in 1896, a work she continually edited until her death in 1918. It has never been out of print. Initially it had 1,200 recipes. Farmer was a Victorian-era celebrity chef whose most renowned contribution was her use of standard measurement in recipes—teaspoons, ½ cup, quart. Today her cookbook uses her name, but even now it gives everyday cooks an easy-to-understand process, with recipe structures that are easily replicated, scaled, or reduced in volume. This was new to cooks in the 1890s. Farmer had learned what was called "scientific" cooking at the Boston Cooking School, where she initially was a student. In her lifetime, The Fannie Farmer Cookbook was also published in British, French, Spanish, Japanese, and Braille editions!
As an adolescent Farmer survived what her Britannica entry calls "a paralyzing stroke" and the New England Historical Society calls "polio". We aren't quite sure when polio began to be used as a vernacular term for a specific illness. Although these two descriptions can be said to describe similar outcomes from which an individual can recover capacity, they have different onset symptoms, But, in 1870s Boston—when Farmer was experienced her illness, we aren't clear how diagnosis of Farmer's condition was managed.
Teenage Fannie Farmer was forced to drop out of school. Her recovery took years, but eventually she was able to walk, though she had a pronounced limp. Her initial cookbook was full of recipes, household food care tips, presentation how-to's for parties and celebrations. But Farmer was interested in cooking for "the sick, convalescent, and invalid". Her 1904 work, Food and Cookery for the Sick & Convalescent, was not the first cookbook dedicated to nutrition for those with chronic conditions, but it was one of the most widely used in its period. The majority of care for a person with a chronic condition well into the 20th century was done at home. Farmer used her own her experience in writing the work, and was asked to lecture at Harvard on nutrition and cooking, with an emphasis on promoting health.
Farmer's cookbook for the sick and invalid appeared just before modern nutritional approaches came into fashion—vitamins, calories, food groups. Refrigerated cars had begun to bring fresh oranges and lemons to Boston, but – it is hard to imagine today the process and tastes of the wildly creative array of jellied aspics ad molds our great-grandparents consumed. Oatmeal is easier to love. Fanny Farmer was an actively lecturer well into her 50s. Her great gift, her niece reported in a piece published by the New England Historical Society, was in discovering and developing the recipes. Her assistant is said to have done much of the cooking. She was giving a lecture while seated in her wheelchair, just 10 days before she died of a stroke.
Our image includes a well-known photo of Fannie teaching, her measuring cup prominently held up. We've also selected pages from her cookbook for the sick and convalescent, and a recipe from the Diabetes chapter. Insulin was not discovered until 1921, and diabetes at the time was commonly referred to as a "wasting disease" that brought death at much younger ages than today. The food photos are crude, but we would like to taste the Orange Mint Cup.