Becoming Helen Keller

American Masters, Season 35 Finale
Becoming Helen Keller, October 19, 2021
PBS, Check your local listings!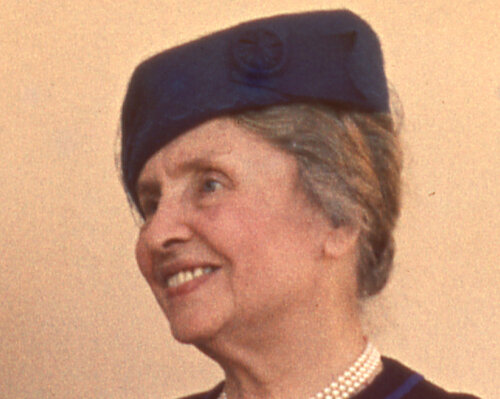 (Credit: Helen Keller, 1952, Jerusalem, Israel courtesy Karl Meyer Mideast Collection, Perkins School for the Blind)
We all know her name. The legend. The jokes.
But Keller's story is so much bigger!
Helen Keller, who was deaf and blind since early childhood, was a passionate advocate for change, using her wit and celebrity to champion rights for women, people with disabilities and people living in poverty. Becoming Helen Keller examines the complex legacy of this author, advocate, lecturer and performer, who was a 20th century human rights pioneer.
Narrated by disability rights advocate Rebecca Alexander, and featuring rarely seen photos, film clips, and moving performances of Kellerís written reflections and observations by Cherry Jones with ASL interpretation by Alexandria Wailes, this documentary explores Kellerís vibrant life while revealing some of the social obstacles Keller encountered and the progressive reforms she helped achieve.