Disability History & Massachusetts 2018 Social Studies Standards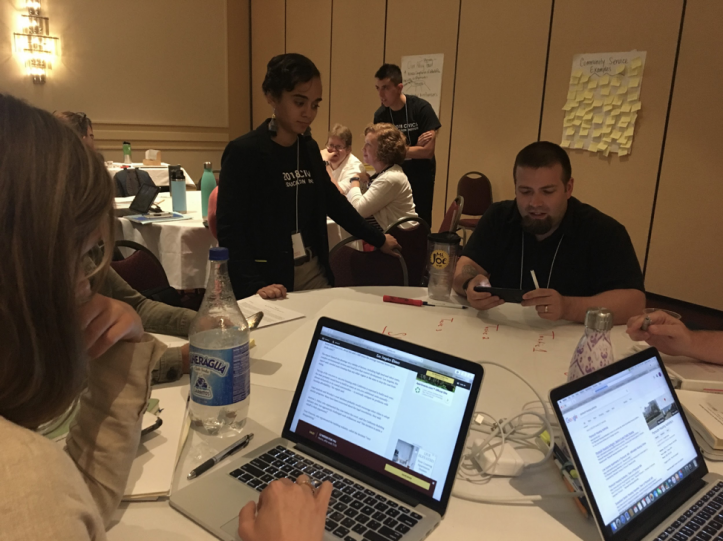 By Rich Cairn, Director of the Emerging America Program, Collaborative for Educational Services, Northampton, MA
Activists, historians, and teachers have been working for decades to incorporate Disability History into the K-12 curriculum. On June 26, 2018 the Massachusetts Board of Elementary and Secondary Education unanimously approved a new History and Social Science Curriculum Framework, replacing standards enacted in 2003. The new standards, which apply to all Massachusetts public schools, thoroughly integrate inquiry and make civics a central focus, including a new 8th grade civics course. The standards also addressed a mandate to "[i]nclude more content in all grade-levels related to underrepresented groups." In answer to this mandate, the new Framework integrates specific key points of Disability History throughout, especially in standards high school courses in U.S. History I and II.
Keene State College historian Graham Warder, a longtime collaborator of the Disability History Museum (DHM), served as a content consultant. Rich Cairn, Director of Emerging America at the Collaborative for Educational Services and longtime partner to the DHM, served on the state panel of more than forty educators who analyzed standards from several states, carefully considered the particular needs of Massachusetts students, and contributed to drafts of the Framework. The panel recommended, and the board ultimately included the following content standards that explicitly address Disability History. In laying out this quick overview, we have described the objectives that the Framework provides the teachers and the examples the frameworks offers associated with Disability History.
As all of us know, what teachers take up in class, how they choose to guide their students towards learning the objectives of required curriculum goals varies from classroom to classroom.  Contributing to the overall approach and design of the Massachusetts History and Social Studies Framework is Guiding Principle 2 (of 10). It states: "An effective history and social science education incorporates diverse perspectives and acknowledges that perceptions of events are affected by race, ethnicity, culture, religion, education, gender, gender identity, sexual orientation, disability, and personal experience." (Emphasis added.)
The new Framework also recommends key primary sources that every student ought to examine. These include the 1843 "Memorial to the Massachusetts Legislature" by Dorothea Dix, Ed Roberts's 1977 "Speech on Disability Rights," and of course, Buck v. Bell, as identified below.
MA History & Social Studies Framework related to Disability History:
1) Elementary School by Grade:
Grade 5 – Objective: Describe the responsibilities of government at the federal, state, and local levels (e.g., protection of individual rights and the provision of services such as law enforcement,  building and funding of schools).
Grade 5 – Objective: Explain how the 20th century African-American Civil Rights movement served as a model for other movements for civil rights (e.g., the second phase of the women's movement in the 1960s and 1970s, disability rights movement, LGBTQ movement).
2) Middle School by Grade:
Grade 8 Civics – Under: The Constitution, Amendments, and Supreme Court decisions

Objective: Explain the historical context and significance of laws enacted by Congress that have expanded the civil rights and equal protection for race, gender, disability. Explain how the evolving understanding of social justice and human rights has affected movement for civil rights for all.
Content examples: the 1964 Civil Rights Act, 1965 Voting Rights Act, 1990 Americans with Disabilities Act, 1975/1990 Individuals with Disabilities Education Act.
3) High School-US History Survey
US I – Under: Antebellum Reformers – Veterans of Civil War

Using primary sources, research reform movements in U.S. in early to mid-19th century, concentrating on one of the following…

The movement to provide supports for people with disabilities, such as the founding of schools for students with cognitive, hearing, or vision disabilities and the establishment of asylums for people with mental illness.

US II – Under: Modernity in the US – ideologies and economies

The impact of the eugenics movement on segregation, immigration, and the legalization of involuntary sterilization in some states; and the Supreme Court case, Buck v. Bell (1927), in which the Court ruled that state statutes permitting involuntary sterilization did not violate the Due Process clause of the 14th Amendment.

US II – Under Defending Democracy: the Cold War and Civil Rights at Home –

Research and analyze the domestic policies of Presidents Truman and Eisenhower

Truman's Fair Deal, the Taft-Hartley Act of 1947, or the Social Security Disability Insurance Act of 1956.

Evaluate accomplishments of the Civil Rights movement and how they served as a model for later feminist, disability, and gender rights movements. Use primary and secondary sources to analyze the causes and course of one or more of the following social and political movements, including consideration of the role of protest and active citizen participation.

The disability rights movement such as deinstitutionalization, independent living, the Education for All Handicapped Children Act (1975), the Americans with Disabilities Act and the Individuals with Disabilities Education Act (1990).
Warder, Cairn, and DHM Director Laurie Block have offered workshops for teachers on Disability History since 2007. EmergingAmerica.org offers many teacher-developed lesson plans that address these content standards and more topics. Emerging America is currently building out an extensive set of resources in support of the graduate course, Accessing Inquiry for Students with Disabilities through Primary Sources. Due to launch in early fall 2018, the new pages build on the graduate course of the same name which has taught hundreds of teachers in several states since 2016. The site identifies key resources on disability history, featuring the Disability History Museum.